The last week of September has been Nationally designated as "Keep Kids Creative Week". While this week is often celebrated in schools with many fun activities to help stimulate kid's creativeness, parents can also take advantage of this week to do some really fun things at home. Many parents struggle with finding time to fit creativity in but there are lots of products out there to help us with getting those creative juices flowing. Mama-Nibbles and Life With Two Boys created this event to help you find some fun products to keep your family creative not only during "Keep Kids Creative Week" but any time of the year! Here at Eco-Babyz we are giving away some fabulous natural art supplies from GLOB!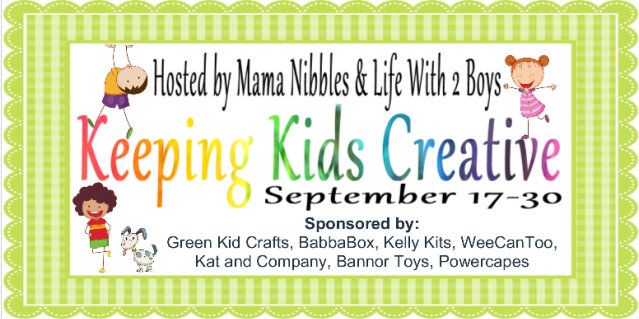 Enter to win the Grand Prizes here
One of you will win the GLOB paint set and Art Pad, check out our full review to see just how awesome this prize is! Unlike conventional paints, these are truly non-toxic, without any formaldehyde or petrochemicals. The vibrant colors come in powder form and you just dilute them with water to make as much paint as you need. GLOB art supplies are made in California and the art pad is from Canada! We hope your little one will enjoy drawing with these just as much as Baby E does.
Disclaimer: Please note that the Keeping Kids Creative hosts and participating bloggers are not responsible for sponsors that do not fulfill their prize. We have represented each sponsor with the expectation that they will fulfill their prize in a timely manner. While we are not responsible, we will make every effort to assist the winner in obtaining their prize.